British India Quiz Questions and Answers
These are a set of 25 questions and answers about British India and the history of India.
1) Pandit Madhusudan Gupta was a Bengali Brahmin translator and Ayurvedic practitioner, also trained in Western medicine. He took the initiative, against much local opposition, to do something at Calcutta Medical College (CMC) in 1836, almost 3,000 years after Susruta. Some records document that a military salute was given from nearby Fort William in honor of this. Specifically what is credited to (Dr.) Gupta?
Ans. India's first cadaver dissection (by an Indian)
2) Mangal Pandey is often hailed in Indian history as a flag-bearer of the 1857 revolution. However, British reports of the time and later descriptions totally downplayed his role. The earliest report noted that "a sepoy has drugged himself extensively and ___ ____, shooting at Lieutenant and Adjutant Baugh. … The historical records have no explanation about the reason behind his actions." The blanks together indicate a term originally used to describe the actions of a sect in Indonesia. FITB.
Ans. Run amok / amuck
3) Nil (or Neel) Darpan was a Bengali play written by Dinabandhu Mitra in 1858–1859 and published in Dhaka in 1860. Mitra sent Rev. James Long a copy of the play in1861. The latter believed that the British mercantile community and the government were unjust and oppressive in their treatment of the local community. He published an English translation of the play for which he was subsequently prosecuted for libel, fined, and briefly jailed. The proceedings of the trial appeared in the second edition of the English version of the play. The relevant documents were compiled and published in 1903 under the title: "The Trial of the Rev. James Long and the Drama of Nil Durpan," subtitled "______ _______ and all about them."
Ans. Indigo Planters
4) As appointed under Section XXXII(32) of the Government of India Act 1858, this was enacted by the Parliament of the United Kingdom. The examination for admission was first held only in London once annually. All candidates also had to pass a compulsory horse-riding test. What was thus created?
Ans. Imperial / Indian Civil Service
5) Although initially conceived in 1837, it came into practice only in 1870 on the suggestion of James F. Stephen, who was at the time handling legal issues in the colonial Government of Indian. This was specifically targeted against increasing Wahabi activities, fearing that Muslim preachers would incite religious war in the Indian subcontinent. To counter this, the Raj introduced this section under the title "Exciting disaffection". In what form or term do we know this better?
Ans. The section related to Sedition
6) The "Indian Customs line" at its zenith (1865 – 70), ran from Punjab in the northwest to Orissa in the southeast.  It was a formidable barrier, composed of Indian plum, babool, karonda, and several species of Euphorbia. The credit for this transformation, from an earlier "line of persistently dwarf seedlings, or of irregularly scattered, disconnected bushes", goes to Allan O. Hume. He proudly claimed that it was "in its most perfect form,… utterly impassable to man or beast". Commenting on this "structure", journalist Madeleine Bunting wrote in The Guardian in February 2001 that the line was "one of the most grotesque and least well-known achievements of the British in India". A book by Roy Moxham has the alternate name of the Customs line as its title. What?
Ans. The Great Hedge of India
7) The X Memorial, made of gray granite, was erected on April 19, 1902, "to commemorate the loyal and devoted services of Delhi X office staff, on the eventful 11th May 1857," reads the inscription on the obelisk. The timely actions of this office helped alert other British stations about the revolt, thus ensuing army mobilization and defeat of the uprising. It moved a British administrator to remark: "The X has saved India." Id. X, no longer a functional entity in India.
Ans. Telegraph
8) Jabalpur (conception) and Ooty (development) are said to be the veritable birthplaces of which indoor sport, in the last part of the 19th century? (specific answer needed)
Ans. Snooker
9) According to Yule & Burnell's 1886 glossary of Anglo-Indian words, "gend khana" was "the name usually given in Hindu to an English racket-court." It literally translated to "ball house". Which English word is derived from this?
Ans. Gymkhana
10) Looking for another English word – its first recorded use in from 1860. Its etymology is from the Indian word meaning "to press, knead the muscles," perhaps from Sanskrit capayati "pounds, kneads."
Ans. Shampoo (from champoo karna)
British India Quiz | online British India Quiz | British India Quiz for school students
11) An anecdote from John Zubrzycki's book Empire of Enchantment describes an incident from 1900. Motilal Nehru was keen to send a certain set of performers to the Paris Exhibition. While the protector of emigrants in Mumbai felt they should be categorized as manual laborers going abroad, the commissioner of customs disagreed. In the end, it was left to the viceroy, Lord Curzon, to determine the burning question of whether the "work" done by this group counted as manual labor! Specifically, what performers?
Ans. Magic / Magicians (Sleight of hand)
12) This is said to have been the very earliest impetus for film production in India. One citation reads Bottomore, Stephen, '"An Amazing Quarter Mile of Moving Gold, Gems and Genealogy". Technical data as follows: Year:1903, Running time:2 minutes, Film Gauge (Format):35mm, Film Colour: Black/White, Sound: Silent, Footage:110 ft, Production Countries: Great Britain. What was the event?
Ans. Delhi Durbar (filming of)
13) An Order in architecture is a certain assemblage of parts subject to uniform established proportions, regulated by the office that each part has to perform. Nonce Orders are invented under the inspiration of specific occasions but never used again. Four such ones are given. Identify the last one.
1762: British order, 1789: Ammonite order and Agricultural order, 1816 -30: American orders, 1912: X
Ans. Delhi (order) (to build Lutyen's Delhi)
14) By 1913, India had become the richest market in the world for the X, and most of the demand was met by local production thanks to the efforts of one Dwarkanath Ghose. However, gradually nationalist sentiments played against X. And with Tagore declaring that "I practiced my songs with my tambura resting on my shoulder; I did not subject myself to the slavery of the keyboard", the tone was set against X. The overall attempt was to define a national sound for India, distinct from the West. What is X?
Ans. Harmonium
15) Which Indian artist is considered the pioneer in advocating the use of Western techniques in Indian Art, and whose work to be among the best examples of the fusion of Indian traditions with the techniques of European academic art? His work came to play an important role in the development of the Indian national consciousness.
Ans. Raja Ravi Varma
Incoming Searches- British India Quiz, British India Quiz Questions, British India Quiz online, British India Quiz pdf, online British India Quiz
16) India's often forgotten contribution to the First World War had one minor lexical legacy. The word 'Vipers' entered the Punjabi lexicon. Specifically, which battle was remembered thus?
Ans. Battle of Ypres
17) A line from the letter dated 30 May 1919, addressed to the Viceroy of India, Lord Chelmsford: "I … wish to stand, shorn, of all special distinctions, by the side of those of my countrymen who, for their so-called insignificance, are liable to suffer degradation not fit for human beings." Put funda.
Ans. Tagore renouncing his knighthood, following the JB massacre
18) The oldest surviving rock-cut caves in India features, as the primary plot location, in one of the most significant novels of the Raj. Its title is derived from a line in Walt Whitman's poem Leaves of Grass. Identify the novel.
Ans. A Passage to India (Barabar caves)
19) Tokyo's Nakamuraya Bakery was famous for its custard buns. X, who married and settled in Japan, introduced Indian curry at a restaurant attached to Nakamurya, in 1927. It clicked instantly with the locals, and the restaurant grew into such a big venture that it became one of the first food companies to go public on the Japanese stock exchange. X of Nakamuraya's became a household name in Tokyo and his 'Indo-Karii' was famously christened the 'taste of love and revolution'. Who (full name needed)?
Ans. Rash Bihari Bose
20) A book by an American of white-supremacy ideology in 1927 invited horror reactions from Indians. Which 1957 Indian film title was a direct rebuke to this book?
Ans. Mother India
21) This headline on the sports page of The Star on May 22, 1932, summed up the performance of the first centurion on tour: "The Hindu Bradman in Form at Lord's". Who was being referred to?
Ans. C K Naidu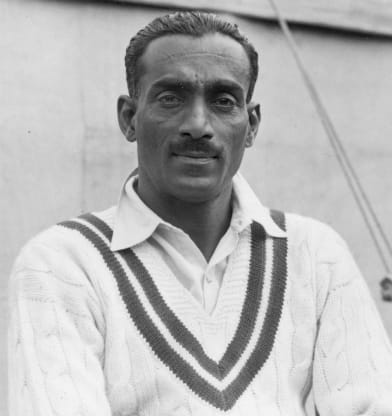 22) J S Norblin was a well-known artist of Polish origin, who left Warsaw at the outbreak of WW2. He reached India in 1941and soon earned fame as an Art Deco interior decorator. He then got a royal commission to make paintings for one of the biggest 20th-century structures of its kind. Due to the sinking of a ship transporting furniture for the palace from Europe, Norblin was eventually also tasked with designing some of the interiors and furniture. This turned out to be his magnum opus (1944). Which present-day tourist attraction is this?
Ans. Umaid Bhawan Palace in Jodhpur
23) In 2013, the British National Army Museum voted this as "Britain's Greatest Battle". Which victory over Japan during WW2 was thus glorified?
Ans. Battle of Imphal and Kohima
24) The British Admiralty referred to him as the "Master of Disaster". Canadians consider him a "murderer". These unsavory epithets were due to the badly planned and executed Operation Jubilee, a seaborne assault on Dieppe in August 1942. However, the British film "In Which We Serve" (Sept. 1942) helped to recover his image in the public imagining. Who is all this about?
Ans. Louis Mountbatten
25) General Wavell, the British viceroy from 1943-47 used this mnemonic: Hot Kippers Make Good Breakfast, for what specific set, indicative of British protocol of the time?
Ans. Princely states befitting 21 gun salute for the rulers (Hyd., Kashmir, Mysore, Gwalior, Baroda)
British India Quiz | History of India Quiz | facts about British India Quiz | trivia British India Quiz | British India Quiz questions online | British India quiz question | online questions for British India Quiz | British India Quiz questions and answers pdf | British India Quiz for school students | British India Quiz for students
Comments
0 comments